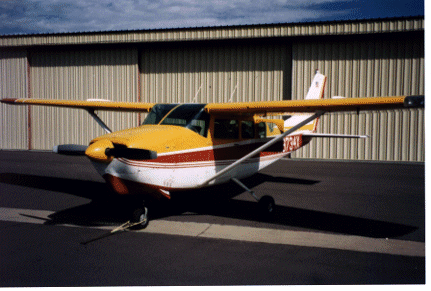 1962 Cessna 210B

Cockpit and Interior



I used to own this wonderful older airplane. It hauled us all over the place for 3 years (~200 hours), until we had our first child. Then it became too small...we ended up selling it to a movie stunt company. They crashed it into a Utah mountainside with 17 cameras rolling. Sigh. Movie of the week!


Logs:           Airframe TT     - 2830
                Engine SMOH     - 1520 (1971)
                Engine STOP     - 600  (1983), complete top
                Propellor       - 650  (new 1981, no recurring AD)
                Annual due      - 1/97
                IFR/Static due  - 4/98

                Mags done in '94
                New Starter in '94
                Hydraulic Pack rebuilt in '95
                New Spark Plugs in '95
                New Battery in '95
                New "Red" Silicon Baffle Seal and Scat Duct in '96
                New Mufflers in '96
                New Nose Tire and "downlock spring" in '96
                Rebuilt Altimeter, Turn Coordinator, Transponder in '96

Exterior:       Red/Yellow on White (painted 1975)      - "7"
Interior:       Brown Cloth and Vinyl                   - "8"
                Under cover or hangered in Arizona for the last 22 years!

Avionics:       Narco 12D               - VOR, LOC, GS, DME, 3LMB
                Michel MX-12            - VOR, LOC, (digital flip flop)
                Narco AT50A Transponder with Encoder
                Apollo Flybuddy II GPS with recent database
                RST Audio Panel
                Sigtronics 4-way Stereo Intercom (fully wired), PTTs

Equipment:      Wellington STOL (1975)
                Digital Clock
                ELT, CHT, OAT (vents recently sealed)
                6 position EGT
                Bracket Air Filter
                Beacon, Strobe
                LR Tanks (80 gallons usable)
                Pitot Heat
                Ground Service Plug
                Fire Extinguisher
                Rear Seat Vents

Notes:          Flies true.  Book fuel consumption, but 5 knots slower than book.
                1 qt. oil every 4 hours (stable).  Oil analyses are good.
                Compression: 72, 72, 70, 70, 55, 68.  I've rechecked the "58" and 
                it is now 72.  Most SBs complied with from CPA 210 owner's manual.
                With STOL kit, stalls are approximately 45kts and short fields a breeze!